LIVE TRAINING ARCHIVE
SEPTEMBER'S LIVE TRAINING
YOUR MONEY MINDSET
With Becki Rabin
september 24th
TIPS FOR GETTING PROFESSIONAL PHOTOS DONE
Clique to Clique Training w/Ellie Jade
HOW TO MANAGE ANXIETY AS WE GROW
Expert Training: Samantha Hearne
AUGUST'S LIVE TRAINING
YOUR MOST SUCCESSFUL ONLINE PROGRAM
CLIQUE TO CLIQUE TRAINING w/SOPHIE CLYDE-SMITH
BEING SELF EMPLOYED IN THE UK
EXPERT TRAINING: LAUREN COPE
Where to start, the tax timeline, key bookkeeping strategies to start right away & when to know to outsource.
CREATING THE RIGHT PRICING MODEL
WITH BECKI RABIN
Last month we were talking about your product model, now next we are going to look at how to price your products. How you charge for your products. A lot of people find it super hard to know what to charge and there are a number of things I think are important to take into consideration when figuring it out.
JULY'S LIVE TRAINING
DESIGNING THE PERFECT PRODUCT MODEL
WITH BECKI RABIN
Getting your products right is key to a successful business, from knowing when to launch what, how to launch it and knowing when to pace yourself is key. I am a big fan of having a service, or a business and the goal is to ultimately have a number of products that sit beneath it. This is why getting your mission right is so important, if you have a clear and solid foundation in a mission, you can create different products to execute it.
ESSENTIAL LEGAL FRAMEWORK FOR YOUR BUSINESS
EXPERT TRAINING: LUCY WHEELER
Lawyer Lucy Wheeler @lucy_legal will be sharing tips on how to legally protect your wellness business. Lucy will guide you through the legal protections needed at each stage of business from starting out to scaling up. Lucy will identify which legal protections you need to consider, highlighting the difference between the policies which are nice to have and those which are mandatory in law.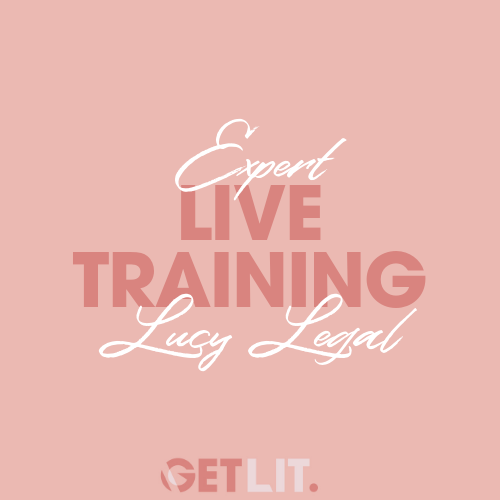 Expert live training: lucy legal
Use this downloadable resource to keep on top of Lucy's top tips for protecting your wellness business!
3 HABITS THAT KILL YOUR SELF-WORTH
CLIQUE TO CLIQUE TRAINING w/FIONA MOSS
Feeling stuck, anxious, bored, stressed, rushed off your feet, not worthy enough, lacking confidence, tired, overwhelmed?
Habits are fundamental in how you feel about yourself, how much you grow, how ready you are to commit yourself to change, to progress.
This webinar will help you get clear about those tiny habits that we all do every day that have a universal impact on our lives, those tiny habits that we don't even notice are having such a negative impact on our progress. We will get clear on those habits which could be killing your self-worth and learn how to flip those habits on their head to help to build back up your self respect, your confidence and make you feel limitless.
JUNE'S LIVE TRAINING
FINDING CALMNESS AND CLARITY
Clique to Clique Training w/ Catri Barrett
Catch up on our first Get Lit Clique to Clique training: 4 ways to find calm and clarity when you're feeling chaotic and confused. If you struggle to restore balance and destress after a chaotic day and want to get some top techniques you can implement to help manage the busy life of being a total boss babe give this a watch!
Attracting clients is one thing, nailing the sale itself is a whole other ball game. In this training we will uncover exactly what you need in place to nail the sale and get the client. From getting clear on their needs to the proven scripts and techniques to handle the sales call and nail the sale.
MAY'S LIVE TRAINING
Catch up on this month's live training. We all want to attract new clients right? But in all honesty, there is a lot to think about from your branding, to your marketing and social media.This live webinar will help you master the overview and suss out what you need to do to get branding and marketing right.